How does your business compare with other local businesses online?
Maybe you've gone to Google to search for your business and find your website way down the list.
You better believe that your competitors are already doing this and the competition is fierce.
This is why it is important that you implement a local SEO strategy.
According to Google, "50% of consumers who conducted a local search on their smartphone visited a store within a day, and 34% who searched on a computer/tablet
did the same."
What's even more amazing is that "Local searches lead to more purchases than non-local searches."
So what does all this mean?
It means that having an online presence for your local business is vital.
Today you're going to learn how to improve your online search presence.
I'm also going to walk you through an exact strategy you can use for your local business.
As a side note, there isn't a magical formula to immediately skyrocket your website to the top of Google, but taking these steps can increase your chances.
So how do you people find you online?
Before we go any further, I want you to complete a few tasks:
Make a list of the keywords that some of your potential customers might type into Google.
Make a list of competitors, and their websites, in your current local market and also outside your market who seem to be crushing it. If you don't have a list of competitors, use the list of keywords you made in the first step and grab the first 5-10 businesses that come up in google.
Create a list of past customers who might be willing to review your business online.
Did you complete those tasks? Cool! Let's get started.
Correct your Local Business Listings
First things first, let's check your local business listings. This is important because your business should be listed correctly on all search platforms. It also helps your business gain visibility.
There is a great free tool to check your business listings called Moz Local. (Just an FYI.. you have limited searches; so use them wisely!)
Once you're at the Moz Local site, search for your business. As an example, I searched for realtors in Winchester, VA and grabbed one of the top results.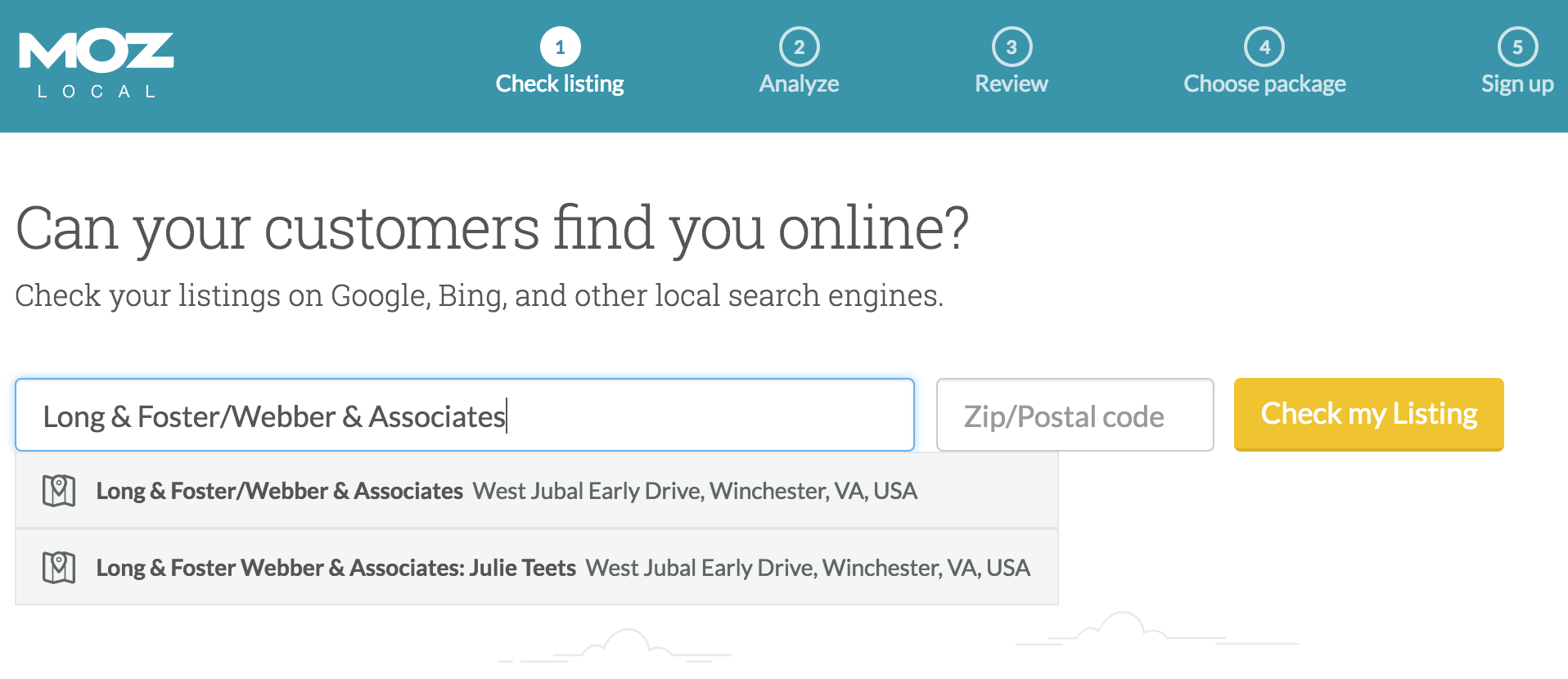 This result is going to show you how complete your listing is on each search engine.
You can see in this example that this business has many of the listings completed. Although, they do have some incomplete, inconsistent, and duplicate information.
Set aside some time to get your business listed on some of these search engines and to correct your business information if needed.
Use Open Site Explorer
Remember the list of competitors and their websites we created earlier? Now we are going to use that list to analyze your current local market. Head over to another free Moz tool called Open Site Explorer. (Just an FYI.. you have limited searches here too; so use them wisely!)
Enter the URL and search for one of your competitors.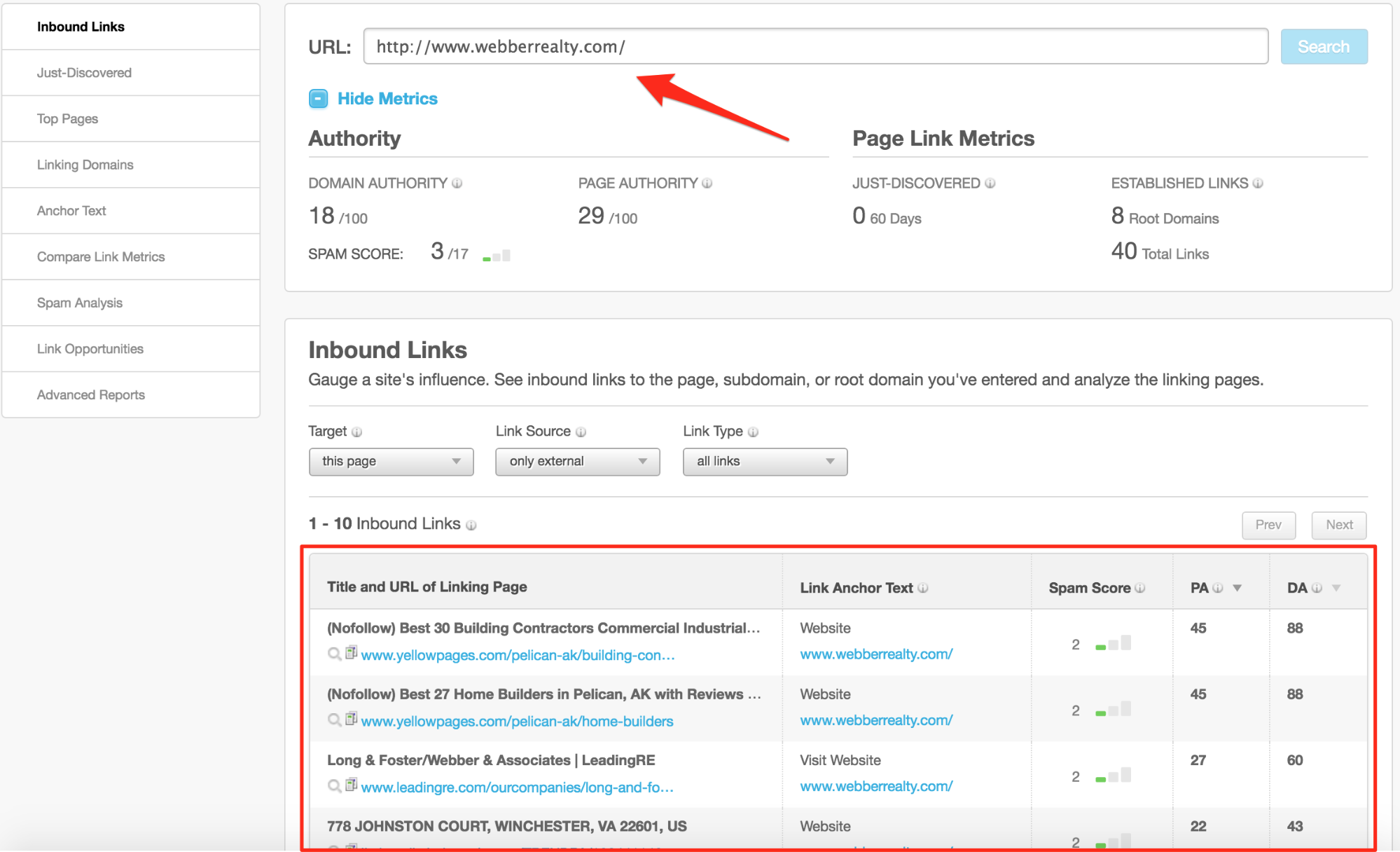 This will show you a list of inbound links for your competitor. You can see in this example that their website is featured on yellowpages.com, leadingre.com, and shenandoahvalleyweb.com.
Having inbound links helps with your domain and page authority.
Now the hard part.
How can you get featured on some of these sites or sites like them?
Maybe it's as simple as emailing the owner of the site and asking. Set aside some time and reach out to these sites.
Also, don't forget to also search for some non-local businesses that seem to be crushing it!
Get Customer Reviews
So you made it this far? Great!
Now I want you to reach out to the list of past customers you made and ask them to review your business and list their experience on Google, Facebook, and other sites related to your business.
This builds your trust factor and gives people confidence in your business.
Here is a great article that gives you an example of how to ask for a review: How To Ask Your Clients For Google + Business Reviews
Wrapping Up
There are plenty more Local SEO strategies we could implement. By making some of these changes to improve your Local SEO, you will increase traffic to your site and gain more leads.
Let me know in the comments if you have any questions or ideas. I'd love to hear your feedback.